Asahikawa Ramen Village

Ramen Map

Food Gallery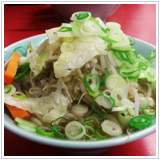 To cut a long story short, ramen is for most intents and purposes hot noodle soup. Not so complicated you would think, but in reality, countless numbers of ramen variations exist in Japan, influenced by region, city and the boldness of the ramen chef (not to be confused with the baldness of the ramen chef, as this is more a sign of talent in sushi chefs rather than ramen chefs).
Most ramen broths are made using pork or chicken (sometimes both) as the main base or stock. In addition, shops or regions will add any number of ingredients including fish, beef, garlic, mushrooms, seaweed and others to concoct their unique ramen stock. Most shops then sub categorize ramen into three general flavors as follows;
Shio Ramen:
broth + salt
Shoyu Ramen:
broth + soy sauce
Miso Ramen:
broth + miso (fermented soy bean)
Local people in Asahikawa have one type of ramen that they like and don't often stray too far from their favourite style, or even favorite ramen shop. In Hokkaido, Miso ramen is the most famous since it originated in Sapporo, but Asahikawa Shoyu Ramen has the reputation of being the finest ramen in Japan. For your first ramen experience, I would definitely recommend Shoyu Ramen. Miso is an acquired taste for most and will take some getting used to, while Shio can be painfully salty depending on the shop you go to, though it's ideally salted at the majority of places. If in your previous Japanese dining experiences you have come across soy sauce and not liked it, don't panic, the amount of soy sauce used in Shoyu Ramen is negligible and won't cause your taste buds any earth-shattering discomfort.
When you enter a ramen shop, if you see some free space you are free to go ahead and take a seat without waiting to be ushered. Every staff memeber will in unisen cry out "Irashaimase" which losely translated means "you're a rockstar, thanks for choosing our shop, you look tired and could probably do with a few beers", this does not require a reply.
Ordering Ramen is as easy as saying "Shoyu Ramen Onegaishimasu", the third word being the equivalent of "please" in English (pronounced 'on-egg-eye-she-mus', the "mus" is same as "must" but without the "t", and the complete word is said quickly with no pauses).
With your ramen you'll be given a glass of cold water, or will be free to help yourself at the water dispenser, though I often find that a nice cold Sapporo Draught Long Neck suits ramen best. On your table or counter you'll find some chop sticks (hashi), as well as extras like pepper, chili flakes and extra soy sauce for those that like their Ramen with a touch more kung fu. Ramen is a hearty meal during the cold Asahikawa winter and with a price tag in the vicinity of ¥800 per bowl represents great value for money. There are many ramen shops in the city and suburbs so you should have no trouble finding one. Please note that depending on the shop, you may be seated at a table, the counter or may be required to wait a little while for a seat.