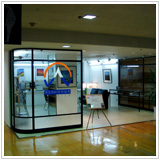 Asahikawa should be one of the the most fortunate cities in Hokkaido. It is a comfortably sized city, completely surrounded by nature and located in the perfect position to act as the transport hub for all of Hokkaido. Despite the increasing number of tourists, there is a fundamental lack of valuable and trustworthy information about this area. Our mission is to provide a total information service related to Asahikawa and the surrounding areas to people all over the world.
What we do

Bring Asahikawa to the world
We have two full time bilingual (ENG/JPN and ENG/Polish) speakers at our tourism office 3jyo 7chome Okuno 5F to accommodate varying information needs. Our web site is constantly being redeveloped and added to and can be found in Japanese, English, Chinese, and Korean.
Total Information
It is difficult to judge any place from typical tour-book comments or articles. We know for a fact that many articles written about Asahikawa and the Taisetsuzan National Park are done so without visiting the region as we are often invited to provide comments or photographs for such articles.  
We are locals. We live, work, and relax here allowing us to provide a host of useful and trustworthy information about Asahikawa and its surroundings in a single web site.
Site contents
The site interface is designed so as to allow users to quickly navigate their way to the information most suitable for them. The primary navigation menu is divided into main genres of interest; Hotels, Onsen, Restaurants, Bars, Winter, Summer, and Golf with educational cultural tips (what is "yakiniku"?,  "Onsen Etiquette", what is a "nomihoudai"? ), providing an informative gel for the site as users navigate their way through it. In addition, we provide useful area information and Asahikawa Trivia.
Asahikawa Tourism Office
We are located on the 5th floor of Okuno. People are welcome to come visit us, browse through travel brochures, ask questions, or purchase 100% locally sourced crafts, postcards and calendars.
Coming in the next few months
Taisetsuzan Nature Tours (T.N.T)
TNT is up and running, though not yet at full steam. We have successfully completed several tours and look forward to expanding our coverage and capability in the coming months.
Asahikawa Tour Map
We are working on printed material to provide more useful information.
Cell phone site
We will have a new 'light' site summarizing our most important available for quick access from portable devices. Users will be able to find directions, restaurants, hotels and other random information quickly and easily when the need arises.
What we offer to our tourism partners;
We will list your business under the appropriate genre on the Asahikawa Tourism web site as well as providing a web page customized to your business and including your basic information, photos, map and an article. Great promotional tool for targeting tourists.


You will be recognized as a supporter of Asahikawa tourism and a contributor to the ongoing development and promotion of Asahikawa city.


We will provide you a space in our office to promote your business using posters, brochures, and fliers, and your company name will be printed on the back of Asahikawa Tourism business cards under the title "Tourism Partners".


Since opening, our site's traffic has consistently increased by an average of 30% EVERY month. Our traffic provides excellent exposure for potential advertisers.


If your business does not have a web site, you will be able use your Asahikawa Tourism page(s) as your web site and quote the Url on your own promotional material.


We will provide various language services for your business at a discount rate.
If you are interested in advertising with us, or would like some questions answered, please contact;