About Asahikawa Tourism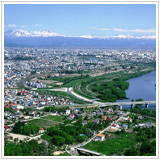 The primary aim of Asahikawa Tourism is to promote Asahikawa and the surrounding regions by providing comprehensive, accurate and honest information to visitors about what to see and do while here. In recent years, interest in Asahikawa as a central access point to the Taisetsu Mountain Range has rapidly increased, and with it has come a steadily increasing influx of tourists eager to experience adventure, culture, relaxation, and fine food.
Asahikawa Tourism is here to provide visitors with all the information necessary to make the most of their time and finances while here. All of the information on this website is derived from the personal experiences of our staff, and while as locals we don't pretend not to be biased towards all things Asahikawa, we are always mindful of seeing Asahikawa's qualities through the eyes of first time visitors. In this way, we hope that people's first impressions of this outstanding region will be as positive as our own the first time we visited here.