Main Menu

Quick Links

Seasons

Supporters
Yubetsu Town 上湧別町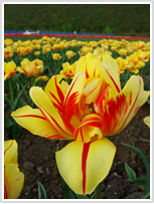 Kamiyubetsu is located north of Asahikawa just short of the Okhotsk coast line and is home to one of the most popular flower festivals on the Hokkaido flower calendar.
From early May to early June, Kamiyubetsu takes centre stage as the most popular day-trip destination following the long Hokkaido winter, with local and international tourists descending on the town in large numbers to enjoy over 120 varieties of tulips, with more than 120,000 tulips in total.
The best way to get there from Asahikawa is by rental car, giving you the freedom to time your own itinerary, while at the same time ample opportunity to take in the spectacular spring scenery along the way.

With Monbetsu and Takinoue not too far away, a great day trip idea is to take in all three on any given day. Just be sure to start first thing in the morning to give yourself enough time to cover the distance.
If a rental car is not your thing, private tours and bus tours are available to take you to all three locations, these will vary in price and are often subject to minimum numbers. For more information on tours contact us at:
tnt@asahikawa-tourism.com
May to June tends to provide mild temperatures and little rain, and you will be unlucky to come across poor weather along the way, but be sure to have a warm jacket with you just in case.



Flower Park Tour Information



Scallops and Spring Water Noodle

Saroma lake, located on the coast side of Kamiyubetsu town, is highly regarded for its delicious scallops. The freshest scallops are considerably different in smell, texture and most importantly taste, and you will quickly notice the difference once you sample a fresh batch.

On the side, you can enjoy a dish incorporating Kamiyubetsu's other local specialty, natural spring water noodle. These noodles are made by combining only local wheat with the amazingly pure spring water of the region to make a noodle that is unique in texture and taste.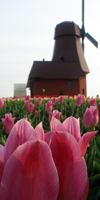 Kamiyubetsu Tulip Fair
May 1st to early June
Enjoy 120 varieties and over 120,000 tulips in the enormous tulip park. There are plenty of attractions to keep you entertained including helicopter flights, the town museum, food and souvenirs.
Open: 8:00am~ 6:00pm
Admission: 500yen


2:30 Free Parking


Yes


No

 flat gravel paths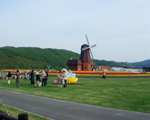 The Origin of the name "Kamiyubetsu"
The name"yubetsu" originated from the Ainu word "yube" meaning shark. Later Yubetsu village was divided into several areas, and "kami" was added given the town was the most upstream of the Yubetsu River, "kami" meaning "upper".

---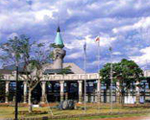 Cultural Center TOM
TOM is a cartoon museum exhibiting local, national, and international cartoonists work. The "100th anniversary statue", built next to TOM is unique architecturally as it forms the shape of a heart when observed from above.
---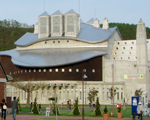 Town Museum JRY
This modern museum showcases the pioneering history of Kamiyubetsu. The 100 year-old pioneer dwelling inside is designated a Hokkaido Heritage Site, and the elaborate dioramas and traditional Japanese tools are well worth seeing. The JRY is located on the grounds of the Tulip Park.
---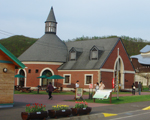 Brick Town - Kamiyubetsu
Red brick buildings symbolize the frontier sprit of the Hokkaido settlers. You can find many brick buildings in Sapporo, though Kamiyubetsu has quite many for its size. During the 70's, red brick buildings were built to show-off the success of apple orchards in this area because brick was very expensive.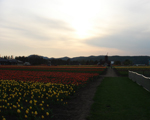 The picture above was taken at just before closing time at the park. From our experience, the park is best enjoyed with the sun a little higher in the sky.

If you are planning to take in Takinoue Shibazakura Park, Monbetsu and Kamiyubetsu in one, you will do well to arrive at Kamiyubetsu before 4pm to get the most out of it.

Yubetsu Town Official Information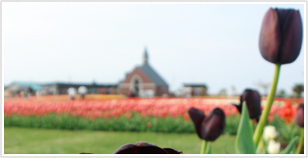 Yubetsu Town Official website
(in Japanese)
Yubetsu Tourism Association
TEL:(01586)2-3600

Population:5,591人
Area:161.39km²
Density:34.6人/km²
Main industry:farming





Gokazan Park Campsite






North along Route 39 to Kamikawa. Then take Route 273 which merges with Route 333. Pass Maruseppu on Route 333 and then take Route 242 to Kamiyubetsu town.
140km - 2 Hours



 Need transit
Dohoku Bus
「Engaru Go」
「Kita-taisetsu Go」 
(→2009 Bus schedule )
From
Asahikawa Chuo Bus terminal
To
Engaru Town bus terminal
2:25  ¥2,150 (one-way)
¥4,050 (round trip)

Kitami Bus
「Yubetsu/Monbetsu Sen」
From
Engaru Town bus terminal
To the Tulip Park
(→2009 Bus schedule )
19min ¥540 (one-way)




N/A
Map
SIGHTSEEING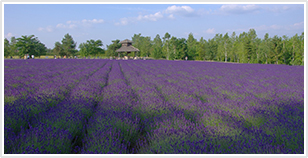 Tomita Lavender Farm
富田ファーム
As far as day trip ideas from Asahikawa go, Tomita Farm is a great choice. A 10ha lavender paradise, Tomita Farm provides ample opportunity for relaxed walks surrounded by a seemingly endless patchwork of color.

More Information
FEATURED HOTEL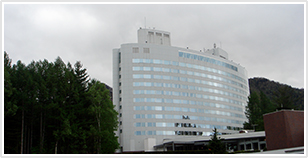 New Furano Prince Hotel
The New Furano Prince Hotel offers unsurpassed convenience for both winter and summer visitors to Furano. It's proximity to the Furano Ski Area, a host of spectacular dining options, and senesational hot- spring facilities all conspire to make the New Furano Prince Hotel the number one choice for Furano accommodation.

Check Rates, availability, and special offers
SIGHTSEEING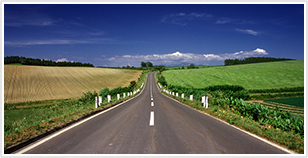 Biei Town - 美瑛町
Biei is like a page from a picture book, capturing spreading rolling hills and an almost complete panoramic view of the Taisetsu mountain range. You can enjoy Biei throughout the year, with the snow-capped tips of the Taisetsuzan contrasting the bare soil in spring, beautiful flowers and blue sky in the summer, autumn leaves and bright yellow rape blossoms in fall, and pure white powder snow in winter.

More Information
FEATURED BAR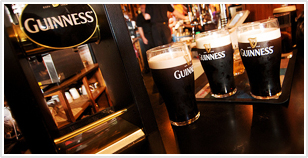 The Den International Bar
The Den International Bar should definitely be the first choice for international visitors looking to sit back in comfort and reminisce about their day's activities over a few drinks. With a solid food line- up and great foreign beer selection, the Den is a great place to simply pull-up a stool, have a beer, watch some sport, and compare notes with fellow travelers about ski conditions and sightseeing locations. If you're here for more than just a few days, The Den is a must!



More Information