Aibetsu-cho is located on Route 39 and is recognized as the biggest mushroom producer in Hokkaido.
Aibetsu is a great place to enjoy nature with access to a sports park where you can enjoy many water-related activities, have an outdoor BBQ, or take part in agricultural activities. There are several high quality park golf courses as well as a perfectly maintained auto-camping area.
For lovers of golf, the Asahikawa International Country Club is just around the corner and provides a luxurious golfing experience at very reasonable prices.



Aibetsu Mushroom

There are many species of mushroom in Japan, and Aibetsu-cho produces most of the Japanese favorites. Shiitake is of course the most popular, maitake is a great antioxidant and has the finest texture, Nameko is sticky mushroom great for


miso soup, while Enoki is the all-rounder of mushrooms.

Kinoko no sato Festival
(Mushroom Town Festival)

When: Second Sunday of September
Mushroom miso soup is prepared in a giant 3.5m wide pot. Mushroom curry, soba noodle, and bread all have mushrooms in them.


Pay ¥2,000 for the "All you can eat" mushroom and beef bbq featuring the freshest mushrooms of the season in all varieties as well as succulent beef strips that you cook yourself on one of the many huge communal barbeques.

Full course "mushroom" feast in Aibetsu
Kyowa Onsen Inn offers a full course mushroom dinner on reservation. Locally grown shiitake, maitake, and other delicious mushrooms are served in sashimi-style, tempura, soup, casserole, and other dishes. Its onsen (hot spring) water is cold carbonated water and is great for drinking.


Origins of the name Aibetsu
In Ainu, "ay-pe" means sharp object or spike. "Aibetsu" describes the shape of the flow of the Aibetsu river, like an arrow.

Asahikawa International Country Club
AICC is a beautiful and well maintained golf course in the Aibetsu hills. It is considered the most elegant and popular golf course close to Asahikawa.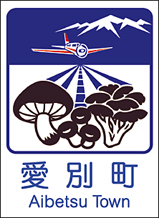 Aibetsu-cho Official website
Click here
(Japanese only)

Aibetsu Tourism Association
Aibetsu Motomachi 166  
01658-6-5240

Population:3,561
Area size:249.71km²
Main Industry: Agriculture (mushroom、rice、logging)

Camping Info
Kinoko no sato Aibetsu Auto camp site

How to get to Aibetsu
from Asahikawa




North on Route 39


30km 50min




 
Dohoku Bus JR Train station bus stop 5 or 6
No.5 To Aibetsu


50min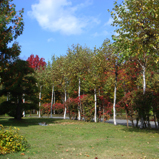 Aibetsu scenery

RELATED:



Access


Asahikawa City


Asahikawa's Neighbours


Asahiyama Zoo


Aibetsu Town


Biei


Bieiland


Daisetsuzan National Park


Furano


Fukagawa


Higashikawa Town


Hokkaido


Horokanai


Kamui Ski Links


Otokoyama Park


Tomita Lavender Farm