Main Menu

Quick Links

Seasons

Supporters
Takinoue Town 滝上町
Takinoue is located about 2 hours north of Asahikawa and is famous for three things; Shibazakura (phlox), Turkey, and herbs, with Shibazakura easily the most popular of the three.

As with many places within easy reach of Asahikawa, driving there is definitely the best way to go. The spring mountain views and fresh mountain air make for a splendidly relaxed scenic drive. You'll find plenty of places along the way to stop, stretch the legs, and take a photo or two of the stunning white peaks of the Taisetsuzan Mountain Range. The roads are new, well marked, and easy to navigate, with little or no traffic congestion. If you don't quite feel up to driving there, bus tours will get you there just as easily.

The trip to Takinoue takes you about half of the way to Mombetsu City on the north coast of Hokkaido. Mombetsu is definitely worth visiting as part of your round trip to the area, with Kamiyubetsu Tulip Park a third stop on your way back to Asahikawa. With beautiful scenery for the whole journey, and plenty of places to visit along the way, a trip to Takinoue Town is highly recommended for lovers of nature.



Flower Park Tour Information



Driving / Car Rental Information



Turkey & Herbs

Takinoue specializes in turkey farming which is quite rare in Japan. And although you can buy turkey sausages and hams at the Michi-no-eki (rest area), there is no restaurant offering turkey on its menu in the town itself...yet!

Takinoue is the only place in Japan producing peppermint on a large scale. The 10ha peppermint farm produces 95% of Japan's peppermint.The Kaori no Sato Herb Garden, just down the road from the Shibazakura Park (Phlox or Pink Moss), provides lunch using their local herbs. Try it out!

Pink Moss Festival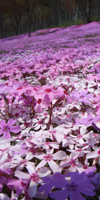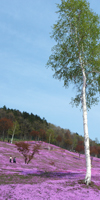 May 1 - early June
The Shibazakura (Pink Moss) Festival is one of the most unique and colorful festivals on the Hokkaido flower calendar. Winding paths lead you across a surreal pink and purple hillside overlooking Takinoue town.

The backside of the Daisetsuzan Mountain Range offers its pointy snow-covered peaks as a backdrop and tulips adorn the the wide gently-sloped paths on your journey across the hill.

A short distance to the right of the upper car-par you'll find food and drink stalls, playground equipment, tables and benches and a stage featuring music and dance performances.

All in all, this is a great place to spend a few hours and take some great photos before moving on to other sightseeing spots in the area.

Admission: 500yen



2 hours(Free parking - Upper & Lower)


Yes



N/A

 Dirt paths, med. gradient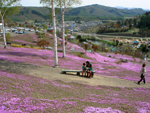 Kinsenkyo Gorge
The gorge runs through the Takinoue downtown area which happens to be rare, even in Japan. The views from the elegant walking trails are remarkably different each season.

---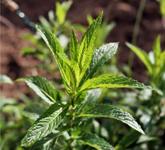 Kaori no Sato Herb Garden

More than 300 kinds of herbs are grown here between June and September. Its restaurant "Fragrance House" is open from 9:00~5:30 and offers local delicacies incorporating fresh herbs.

2009 Fragrance house menu
(in Japanese with some photos)
For a more hands-on herbal experience, you are also able to make your own herbal soap, potpourri, wreaths, and much more! You'll never have more fun with herbs!

2009 Experience (in Japanese)
---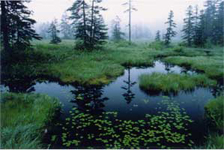 Ukishima Shitsugen

This wetland is located over Ukishima Tunnel on Route 273. Mysteriously beautiful.
---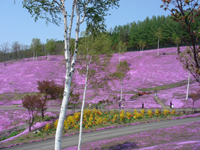 Asahikawa Tourism visited the Pink Moss Festival in mid May. We can say without hesitation that at anything over 60% full-bloom, the park is stunning.The hill is equally amazing from up close and from a distance and the air is constantly filled with the sweet smell of Shibazakura.

Takinoue Town Official Information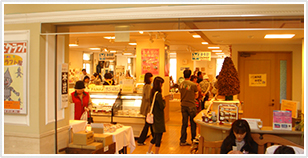 Population: 3,235人
Area: 766.89km²
Population Density: 4.24人/km²
Main industries: forestry, farming




Keikoku Koen Camp Jo
(next to Kinsenkyo Gorge)






From Asahikawa



by Car
Go North on Route 39 to Kamikawa, then take Route 273 to Monbetsu.
110km 1:40



by Bus 
Dohoku Bus
「Monbetsu Go」
「Okhotsk Go」
(

2009 Bus schedule ) 

From Asahikawa Chuo Bus terminal
2:18 ¥2,550 (one-way)
¥4,800 (round trip)



by Train
N/A
MAP



 
「Kaori no Sato Takinoue」

Takinoue is known as the "folk story village." This michi-no-eki (road station) has unique buildings with a great gift shop. Herb products, souvenirs, wood crafts, and turkey products are all available here.

Official Website



DRIVING & CAR RENTAL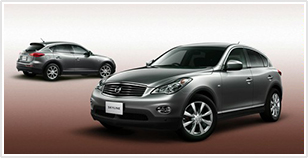 Asahikawa Car Rental & Driving Hokkaido
Find all the information you need for a safe and comfortable driving holiday in Hokkaido. Everything from information about International Drivers' Licenses, road signs and regulations, English navigation systems, emergency information, maps and more.

You can also use our car rental search and reservation tool to help you save time and money and to settle on the perfect vehicle for your needs.

As with all travel related matters, doing some basic research is the key, and this page is the best place to start if your looking to drive in Hokkaido this year.



More Information