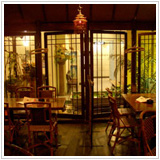 Hoang Tam combines many elements common to South-East-Asian cuisine and presents a supremely diverse menu that is as kind to the taste buds as it is to the eyes.
The comprehensive menu allows for plenty of choice. Meat and seafood are well represented as are salads and vegetarian dishes, all presented with the distinctive Hong Tam colour and style.

With its relatively large floor space, Hoang Tam offers a degree of comfort sometimes difficult to find in Japanese restaurants. Whether its a quiet table for two or a large table for a special occasion, patrons can expect a good amount of space to enjoy their visit.
Expertly decorated in a typically asian style, the mostly timber and bamboo decor combined with subtle lighting encourages an atmosphere of warmth and comfort that is easily appreciated, and which complements the cuisine flawlessly.
The restaurant features a fantastically-coloured central bar, that looks as if it were borrowed from a tropical island resort. All you would expect from any good bar, plus a few house specialties available to tempt the inquisitive.
Hoang Tam opens from 5pm everyday and closes at midnight monday to thursday, 3am on Fridays and Saturdays, and 11pm on Sundays.
It is an excellent choice for those that enjoy a quality atmosphere with their dining.