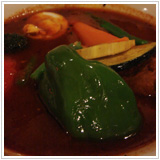 Although its name leaves little to the imagination, soup curry will surprise you both with its appearance and with its rich flavour.
In a landscape of cuisine dominated by elegance and simplicity, soup curry seems not to succeed in either discipline, yet has grown in popularity in a short period of time to become one of Hokkaido's sought after delicacies, particularly in Sapporo.


The soup is usually an oily thin broth, made by combining a secret selection of different spices common in Indian, Sri Lankan or Bangladeshi cooking. Less emphasis seems to be paid to curry leaves, making the soup richly aromatic with other spices while at the same time presenting a familiar, though much more subtle curry flavour.
Traditionally, additions to the soup have included a deep-fried chicken leg, potato, carrot, pumpkin and the signature boiled egg half. However, as soup curry's popularity has grown, so has the willingness of chefs to experiment with the formula. Beef, vegetarian, and even seafood soup curry can now be found on many menus alongside the original chicken version.
Most shops will serve their soup curry with a standard small or medium portion of steamed white rice on the side, and offer you a choice of spice factors. Generally the range will be from 0-10 but some places offer a spice range of 0-100. How they measure the difference between a 62 and a 63 is beyond me, but most people should find anything below 20 mild (see below right).
Most soup curry restaurants will also offer an extras menu allowing customers to big-up on items like cheese, different vegetables, mushrooms and many others.
Soup curry is a tasty, easy meal, and a particularly good choice on cold winter evenings. It will most likely take you a few tries to nail down your preferred spice level, and once you have, soup curry will rapidly become one of your favourites.




Soup Curry Restaurants

Asahikawa City Restaurants



View the Food Gallery

Soup Curry Gallery (coming soon)