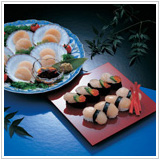 Asahikawa's central location in Hokkaido provides it with easy access to the freshest seafood Hokkaido has available on the north, east, and west coats. Asahikawa's Sushi restaurants and Izakaya therefore, are in an ideal position to provide not only exceptional sushi, but also a variety that is difficult to match by Hokkaido's southern neighbours. With Abundance and popularity, you can also expect great value for money.



In Asahikawa you will find sushi made using; tuna, salmon, squid, surf clam, fish eggs, shrimp, oysters, mussels, scallops, herring, mackerel, eel, and sea urchin just to name a few of the more popular types. In reality, there are many more to choose from, and half of the fun of going to a sushi restaurant in Asahikawa is having the ability to try new types of sushi for the first time.
For people with an aversion to raw fish or shellfish, the sushi made using vegetables, fried fish, or egg omelet are a nice alternative, and definitely no less tasty.
Kaiten zushi (conveyor belt type) restaurants, popular in western countries, serve good quality sushi with excellent variety, but are locally perceived as the Japanese version of a 'fast food' restaurant. That is to say that although the quality of sushi is very good, convenience and price play a significant role in the overall scheme of things.
Most Izakaya restaurants will have some of the most popular sushi somewhere on their menu, but since an Izakaya's core business is providing a near-full complement of Japanese styles, the sushi selection is often limited and the chef is not likely to specialize in sushi making.
By far the best tasting, traditional, and unusual sushi can be found at a traditional sushi-ya or alternatively a traditional Japanese restaurant. Here you will encounter chefs that have been in the business of delivering the highest quality sushi and sashimi for decades. You will most often sit at a counter in front of the chef and have him prepare the sushi before you.
At a traditional Japanese sushi-ya, the emphasis is strictly on fine sushi, and this is to a degree reflected in the price. Having said that however, if you are a lover of sushi, this is an opportunity not to miss, and an experience you will not regret.
Regular customers often leave the decision making process to the sushi chef, trusting him to instinctively know what to serve up, or to deliver the current season's delicacy. This is exceptionally well mannered, but be aware that the current seasons's delicacy, or chef's choice may not have your finances at heart. It is very easy to part with a considerable amount of cash very quickly.
A good way to go is to order a set course, which of course you choose, and which meets your budget, or alternatively to give the chef your budget and let him decide. With both these options, there will be no surprises when it comes to paying at the end.




Sushi Restaurants

Asahikawa City Restaurants



View the Food Gallery

View the Sushi Gallery