Tenkin - Traditional Japanese Izakaya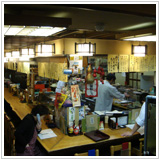 Tenkin is one of the oldest izakaya style restaurants in Asahikawa, specialising in providing outstanding quality fresh seafood as part of an extensive menu featuring all of your Japanese favourites.
Whatever your taste, you are sure to find something to tempt your palette at Tenkin. And although seafood lovers will no doubt want to make a selection fresh from the tank, those not so keen on marine delicacies will find comfort in the extensive selection of yakitori, nabe, sushi, shabu shabu and salads available from Tenkin's splendid izakaya menu.

Tenkin opens from 3:00pm to 11:00pm and is very easy to find owing to its central 4 Jyo location (take a left at the fourth major intersection heading away from the train station).
At the entrance you will find a huge fish tank loaded with the best seafood Japan's northern seas have to offer. Once you have been ushered to your seat, either the counter, private tatami booth, or banquet style tatami room, you can start to get your head around the contents of the epic menu.
With the entire menu available in English, Korean and Chinese, ordering is relaxed and allows you to get an appreciation of everything on offer. The service is prompt and the atmosphere is as authentically Japanese as you would hope for.
To start your food journey into Hokkaido, look no further than Tenkin.


Sashimi Moriawase

980円
Raw seafood (sashimi) is a very typical Japanese dish. The Moriawase is a neat sample platter of some of Tenkin's most popular seafood.
---

Japanese Sirloin Steak

1,800円
Thinly sliced sirloin beef steak, very delicately spiced, cooked to perfection and offered on a sizzling hot plate. You'll love Japanese beef.
---

Tempura Moriawase

900円
A selection of seafood and vegetables prepared in another of Japan's internationally renowned styles, Tempura. Light and balanced, this dish is a must.
---


Sashimi



From the grill



Salad and stew


Char-grilled






Specialities




Battered
and crumbed





Hokkaido
special



Hot pot




Delicacies and Vinegared
salad


Sushi and rice


Assorted sashimi for 1
Fresh scallop sashimi
Fresh sea urchin sashimi

Assorted skewers
Grilled local pork
Hokkaido beef sirloin steak

Green asparagus salad
Stewed Hokkaido native skate

Okhostk atka mackerel
White meat fish from snapper family
Hokkaido smelt fish
Surf clam with butter or salt and pepper
Sea snail
King crab

Maitake mushroom stir-fried with butter
Tenkin special dumpling with local herb
Oysters cooked in miso sauce 
Salmon cooked with miso sauce.

Hokkaido style fried chicken
deep fried octopus
battered flounder served with chili sauce
Assorted crumbed seafood
Prawn tempura with assorted vegitables
Assorted crumbed skewers

Salmon roe
Steamed potatoes topped with butter
Uni/Ikura don
Squid marinated in special soy sauce

Hokkaido special salmon nabe
Fresh shell fish on a hot plate
Monk fish nabe
Local rock fish nabe

Assorted vinegared salad
Salted sea urchin
Marinated sea pineapple
Salted crab eggs

Crab cooked with rice soup
Assorted Sushi
Uni (sea urchin) don
Tenkin special roll with assorted fresh seafood


¥980
¥570
¥1,600

¥780
¥780
¥1,800

¥550
¥650

¥750
¥1,300
¥650
¥850
¥500
¥2,400

¥600
¥650
¥800
¥950

¥600
¥750
¥1,000
¥1,500
¥1,300
¥600

¥680
¥380
¥1,850
¥450

¥1,000
¥1,300
¥1,500
¥1,800

¥600
¥480
¥420
¥480

¥700
¥850
¥1,500
¥900




4 jyo 7 chome,
Asahikawa City

0120-17-6400 (Toll Free)
0166-22-0783

3:00pm~11:00pm


Genre

Seafood / Izakaya


Seats

250


Budget

from ¥3000


Seat Charge

¥350 
w/simple side dish

Reservation

Required on weekends, big groups, or for a private room.

Languages

English ,Chinese, Korean menus / simple spoken English

Credit cards

Visa / Master Card / Amex / JCB


Family

Welcome

Distance from JR Asahikawa Station

6 min. on foot

Tenkin Course Menu





All courses are subject to change. Minimum of 4 people to order the course.

One course plan per party.

Plan A ¥4,000
(with all you can drink 120 minutes)
■ Appetizer
■ Assorted fresh sashimi
■ Assorted grilled fish
■ Deep fried flounder with chili sauce
■ Rolled sushi
■ Japanese style pickeles
Total of 9 courses

Plan B ¥5,000
(with all you can drink 120 minutes)
Total of 10 courses

Plan B ¥5,000
(with all you can drink 120 minutes)
Total of 10 courses

Hokkaido special
course ¥7,000
(Food only)
one example...
■ 3 delicacies
■ Special sashimi plate 
(prawn, sea urchim, blue fin tuna)
■ Grilled king crab legs or Boiled horse crab 
■ Abalone steak
■ Oysteres cooked in miso sauce
■ Diced filet steak
■ Asparagus salad
■ Mini Uni/Ikura don or
Premium sushi plate
■ Japanese style pickeles
■ Melon sorbet