Summary:


Season:

Mid December ~ End March

Location:

Takasu Town

Sessions:

2 [1 Morning & 1 Afternoon]

Courses:

2 [1 General & 1 Technical]

Age:

-

Experience:

Not necessary

Accessibility:

Wheelchair access / custom sleds

Tours:

Available through TNT [more]

Additional:

Due to enormous quantities of snow, the 2010 season may extend into April.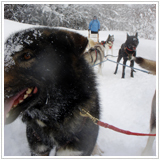 Whether you're in town for the snow, the winter festivals, or just the Hokkaido winter experience, you will find fewer better opportunities to try your hand at dog-sledding, a sport that the majority of people only know about thanks to television.

Available in Takasu Town, a short distance from Asahikawa, dog- sledding is a fun, exciting, and unique way to spend a morning or afternoon surrounded by Takasu's stunning winter scenery.
After some preliminary safety and equipment instruction, you are left in charge of the sled and dogs to negotiate the 6.5km of painstakingly manicured track. The operators run a snowmobile equipped with a "paparazzi trailer" in front of you allowing your friends or family to capture your best (or worst) moments on film, while at the same time giving them an opportunity to get out along the track and see some of the wonderful scenery.

The dog sledding at Takasu is operated by Dan and Kyoko of Moonlight Ladies, who you'll find warm, friendly, and professional, with a clear love of the animals and appreciation for their well-being. The 29 dogs available are worked on a rotating 2 days on, 1 day off roster, ensuring that the dogs stay injury free and are in the best possible condition for any given run. You will find the dogs extremely friendly, playful, and incredibly enthusiastic to hit the track.
The sleds themselves are built on the premises by Dan, who has also taken it on himself to build custom, task-specific sleds, not the least of which is a seated, hand-controlled sled for people with disabilities.

Beautiful scenery, fun, excitement, and speed..., four pretty decent reasons to have a shot at dog-sledding, you'll find yourself very happy you did.

Tour Information