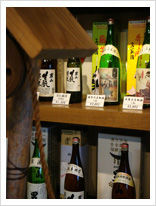 Otokoyama is Asahikawa's most famous sake, both within Japan and worldwide.

The spacious complex offers plenty to occupy the senses including a front seat view of the sake making process, a sake museum, a beautiful Japanese garden filled with flowers from May to September, a garden-side shaded rest area to unwind, as well as a delightful sake tasting room and gift shop.

The sake museum is comprehensive in covering all facets of Otokoyama's rich sake brewing heritage, including ancient sake-related literature and art. In fact, one of Japan's most famous Ukiyoe painters, Utamaro, portrayed Otokoyama sake in a few of his works, forever affording Otokoyama a place in both the sake brewing and art histories of Japan.

The museum also features the tools utilized in the making of sake over the years, old style bottles and ceramics, discontinued standard containers, medals and trophies from dozens of national and international contests, as well as news articles and maps. All the while, the casual visitor can peer through the huge glass windows to the brewing and storage rooms on the brew floor.

Some 340 years of Otokoyama history make this brewery a rewarding tourist destination for the casual visitor, sake enthusiast or historian.

Otokoyama is one of the most internationally renowned sake brands in the world and this exposure is reflected in Otokoyama's approach to welcoming international guests. Their facility is exceptionally tourist friendly, with brochures, and some signs written in English, Korean, and Chinese, and with English speaking staff available to assist with tasting and inquiries.
The sake tasting room and gift shop are beautifully presented and allow visitors to sample some of the most famous sake in the world, as well as the opportunity to purchase magnificent sake sets, and cups amongst others.
For a taste of the rich history of sake brewing look no further than Otokoyama Sake Brewery and Museum.

Related:




Takasago Sake Brewery
Taisetsu no Kura Sake Brewery
3 Breweries Tour (All Seasons)