They're everywhere, populating just about every idle piece of real estate available, dispensing anything you may need at short notice, in more varieties than you can hope to imagine. We're talking about the all conquering Japanese vending machine.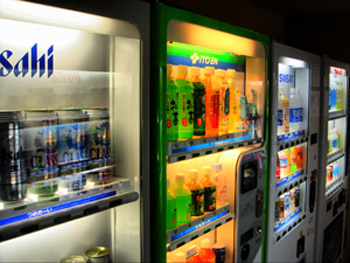 If Hong Kong can boast the highest population density of any city in the world, Japan can definitely boast the highest vending machine density of any country in the world, with the number of vending machines in action by the end of 2007 standing at a lazy 5,405,300.
The reason for such a staggering number is primarily their convenience, but we're not particularly concerned with that. What is interesting however is the type of item that can be procured using vending machines in Japan.
Here they are, and this is by no means an exhaustive list, the research continues...
Food / beverage    
Canned drink
Bottled drink
Carton drink
Cup drink
Alcoholic drink
Nuts     
Chewing gum    
Candy
Bread   
Snacks
Cup Ramen        
Burgers
Canned Ramen
Rice      
Eggs
Hot Dogs
Curry
Spaghetti
Ice Cream
Popcorn
Spaghetti
Ice Cream
Tobacco    
Cigarettes
Cigarette lighters
Tickets    
Train tickets
Food tickets
Postage stamps
Horse racing tickets
Payment stamps
Random    
Postcards
Newspapers        
Magazines
Books
Comic Books
Cards
Adult Videos
Umbrellas
Telephone cards
Fishing Bait        
Used schoolgirls underwear (banned since 1995)
Toast
Condoms
Tissues
Phone battery chargers
Travel insurance
Disposable cameras
Stag Beatles
Dry Ice
In addition to these, the latest vending machines offer stand up comedy, speech in local dialects and internal cameras to take take you step by step through the production of your coffee.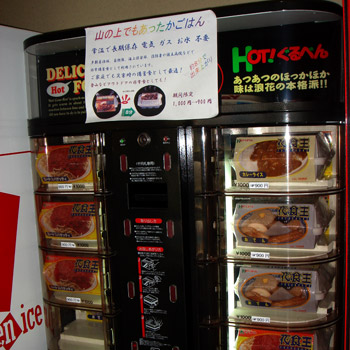 Can't wait to see what's in the works for 2009...