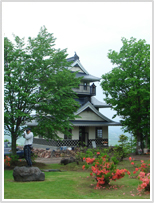 Kitoushi is located on the outskirts of Higashikawa Town, about 20 minutes east of Asahikawa City and boasts an impressive resume in relation to catering for the needs of tourists.
The latest of these is the gallery in the forest. Already a great hiking track with splendid panoramic views and winding forest paths, Kitoushi now allows you to view professional photos curiously mounted over the length of the hiking trail.
The photographs are from the personal collection of Mr. Taketazu Minoru, one of Hokkaido's most renowned photographers, while the gallery arrangement was choreographed by Mr. Minura Jun with the assistance of Mr. Sakino Ryuichiro.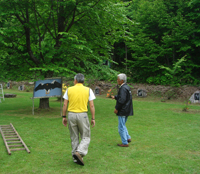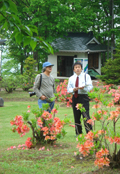 With the 225 photos mounted on hand-made, raw-wood frames, some suspended in trees and some almost hidden in the dense forest foliage, the Kitoushi hike will be one of the most interesting walks in the forest you've ever engaged in.

The hike itself is relatively mild with few steep sections and an overall gentle gradient, and a person of average fitness will be able to cover the return journey in less than an hour.
The first stage of the path concludes at a small peak about 1/3 of the distance in. Here you can rest for a while and enjoy a beautiful view of Higashikawa below.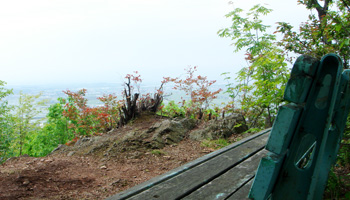 A short downhill section leads you deep into the forest and a final section uphill again to the top of the mountain. You'll find the majority of the photographs along this section.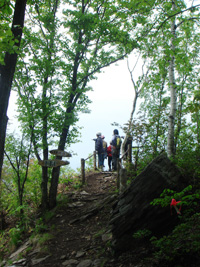 Follow the path to the end and you'll reach another small clearing with a quaint little lookout at the end offering another perfect view of the seemingly endless rice fields below. Again, this is a great opportunity to rest, grab a drink and breathe some quality mountain air before tackling the trail back.

Please remember to take a drink with you. Despite the fact that Japan is the land of the vending machine, sadly, there are no vending machines along the trail and you will get thirsty in summer. Please also be aware that there will be insects, so if you have a particularly strong aversion to them, make sure you wear a hat, long sleeves and perhaps bring insect repellant. If you wish, you can buy some repellant at the souvenir store in Canmore Ski Village, just next to the park golf couse at the bottom of the hill.

The gallery in the forest is open until October.