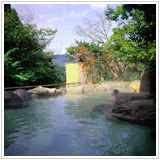 Everybody becomes nervous when doing something for the first time, particularly in a foreign country. It becomes more nerve-wracking if you intend to participate in something that is considered a nationally loved tradition, like visiting an onsen (hot spring) in Japan. There is definitely a strong element of ritual when it comes to taking an onsen, but really there's nothing at all difficult about it as long as you remember some simple basics.

The golden rules for taking an onsen (or sento) in Japan are as follows;
Wash top to bottom in the wash area BEFORE going in.


DO NOT bring your large bath towel into the bath (it stays with your clothes in the changing area)


Make sure to rinse thoroughly so as not to carry soap suds into the bath with you when you go in.


Remember that an onsen is a bath, not a swimming pool, don't treat it as a thing for entertainment.


Soak for a while but do not soak your courtesy towel in the water. Most people leave it by the side of the bath or fold it in half and place it on their heads.


After your first soak, get out and scrub down in the wash area once more (optional).


You are now ready to hop as many baths as you can find.


Please also remember to be mindful of your volume so as not to disturb the tranquility of others.
If you forget everything else on this page, please don't forget 1~4 above, no matter how trivial they may seem to you.
Ok, now that you have an idea of what to do when you get to the bath, let's make sure you can find the bath in the first place. The larger onsen hotels will have several bathing areas, often on different floors and a distance away from the other hotel facilities. You'll be able to find all of the necessary information in your room. Also in your room you'll find your bath towel and courtesy towel (more or less a hand towel). Take both with you as it will save you having to ask for them once you get to your destination.
When you arrive at the bathing area, be careful to check the entrance. There are many unisex public baths (usually outdoor ones) but the changing areas are always separate. On the door, look for a "Noren" (see below). The color of the Noren represents the male and female sides, blue for men and pink for women.













Entering the changing room, you be greeted by an army of lockers and baskets. If you have anything valuable, use a locker. It may require some coin, but will usually be refundable. If you have nothing of value with you, just use a basket. Take off all your clothes and make your way to the washing area, your courtesy towel is now your best friend, leave your bath towel in the basket or locker.
The washing area is adjacent to the baths. Here you'll about a dozen mini-showers, small stools for sitting on and water pails. Pick any vacant spot and sit on the stool to avoid spraying water on other people. Scrub down using the complementary soaps and shampoos making sure to rinse thoroughly. If the bath is not busy, you can leave your towel in the pail to keep your spot, but if there are people waiting in line, take the towel with you and carry it around for cover.
If you have to take the towel with you, just before you get in the bath, leave it on the handle or any place where it won't get wet (many people just sit it on the top of their head).  There should be at least a few tubs with different temperatures so find the one that's most suitable for you. You can go in and out of as many baths as you want without washing up again.
You can come back to the washing area to wash your hair, shave, or whatever you like to do (brushing your teeth is good too). After your first scrub down you are free to move about anywhere you like.
Once you've had enough, use your small towel to wipe yourself off on the way back to the changing area. Use your bath towel to dry and get dressed. While there, you will also find sinks, hair dryers, and hair and body lotions, feel free to use them.
You're done. When you get back to your room, have a relaxing beer or other suitable beverage, take a look outside at the amazing scenery, and get ready for one of the best sleeps of your life.
RELATED:

Sento vs Onsen
Asahikawa Onsen