Horokanai-cho Soba Harvest Festival
Soba noodle is one of Japan's most popular noodles. It's made out of ground buckwheat grain, and is eaten both hot and cold.

Japanese people traditionally eat soba on new year's eve or very early in the new year as a wish for good health and prosperity in the coming year.
Likewise, Japanese people like to celebrate anything new, anything in season, or just anything in general, hence festivals for the first rice harvest, the first marine catch, or the first sake brew of the season. It shouldn't be unusual in that case that the Horokanai Soba Festival celebrates the first buckwheat harvest of the year, traditionally held over the first weekend of September.
More than 20 soba shops and more than 50 other shops take partl. There are many unique recipes for making soba noodle so it's a good idea to do some soba tasting to narrow down your favorites. In this way, you'll know which to buy at one of the many stalls selling packaged uncooked soba. The other food available will likewise not disappoint. A variety of international, local, and soba related food are showcased, as well as soba-related cooking gadgets, and other local specialties.
What to do at the Soba Festival

Soba Tasting

Hot and cold plain soba costs 500 yen. You can choose from a variety of toppings such as veggie tempura, shrimp tempura, and grated potatoes for around 200 yen extra. Have a few serves, or share with friends to find your favorite one.

Soba Field
Horokanai-cho has the biggest soba field in Japan. You can see the beautiful white soba flowers for miles around. Unfortunately we took the picture on the left too late in the season. Sorry!

Soba gadgets and tasty food

Never seen soba gadgets? Obscenely large chef's clevers, huge bowls, and grinders are "must have" items for soba making. You can try soba honey, soba tea, soba beer, or soba ice cream as well. The food at this festivals is exceptional.

Lake Shumarinai

Enjoy a little escape to the biggest man-made lake in Japan. Rainbow trout fishing or relaxing in the forest are awesome after a big lunch. Just drive to the North for about 30 min.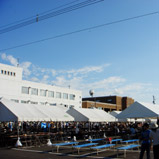 Horokanai-cho Official page
Click here (Japanese only)

Horokanai Tourism Association
Horokanai-cho Uryu-gun, Hokkaido
0165-35-2380

Population:1811
size:767.03km²
Main industry: Agriculture, farming

How to get to Horokanai from Asahikawa




Through Wassamu
Go North on Route 40 and take Route 48 from Wassamu-cho
65km 1:30




Through Shunkodai
From Asahikawa, go Takasu are and take Route 72 through Etanbetsu
40km 55min




Through Chuwa
From Asahikawa, take Route 98 then take Route 915 and merge to Route 72 in Etanbetsu
45km 1:00



 
JR Asahikawa Station to
JR Fukagawa Station then by bus to Horokanai (see below). 
20min



 
JR Bus
From JR Fukagawa Station to Horokanai-cho bus terminal
60min