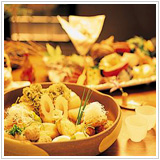 Deden is located in the heart of the "Sanroku" district where most of Asahikawa's restaurants and bars can be found. Deden is a contemporary Japanese Izakaya where you can try expertly prepared traditional Japanese cuisine, including sashimi, oden, yakitori, robata fish, as well as a large number of contemporary dishes influenced by Chinese and Western styles.
Little tip for Deden
When you first enter, the entrance may seem a little small. Remove your shoes and a waitress will lead you to your table at which time she will hand you a small wooden shoe locker key. This is simply a means of tracking customers and shoes to avoid having people go home barefoot, so please remember to take you wooden key with you when you go to pay and your shoes will be promptly brought to you.
Atmosphere
Deden is warm and comfortable with a choice of Japanese style tatami seats and regular tables and chairs available. Families and big groups are always welcome. There is also a private room available for a quiet, romantic dinner.